The ULTIMATE Dock or Boat Ladder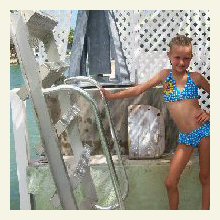 Aqua Easy™ is the easiest access ladder on the market today. It's design allows access to the water as never before. Even people who thought they couldn't access the water anymore have had great success with our design ladder.

With the Aqua Easy™ ladder you'll feel safe and secure when coming into, or out of, the water. Traditional vertical ladders are difficult to place your feet on securely and allow nasty bacteria and algae to collect. Our all aluminum construction and pivotal design allows for a simple push into the water before you descend. And when you exit, you pivot it up out of the water into a standing position which eliminates algae build up on the steps.
The Aqua Easy™ Dock/Boat Ladder works great for elderly, children, pets or just anyone wanting easier access to and from the water.
Superior Construction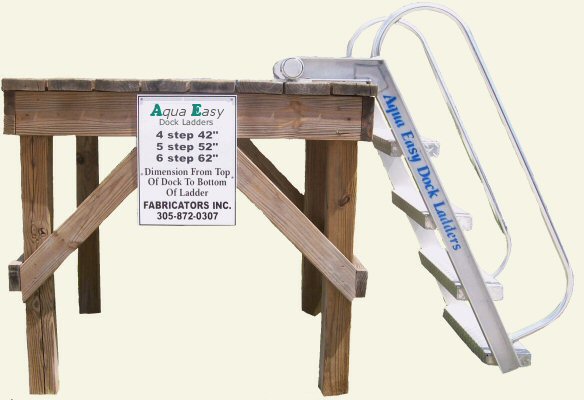 Steps are constructed of Aluminum diamond plate material preventing slippage and each step has a rolled front edge for foot safety. Each step is approx. 20" wide X 6" deep providing secure footing. The steps are approximately 10" apart vertically.

Aqua Easy™ ladders come with easy installation instructions and include 8 Galvanized tapcons for concrete installation. For wood docks or boat decks we recommend Stainless Steel bolts, these are not included because you will need to get bolts specific to your application.

The Aqua Easy™ Dock/Boat ladder comes in:

4 - Step Models - Approx. 42" below your mounting surface
5 - Step Models - Approx. 52" below your mounting surface
6 - Step Models - Approx. 62" below your mounting surface
Every model is lightweight and easy to operate - weighing between 31 - 36 lbs.
We ship UPS - Continental United States only.